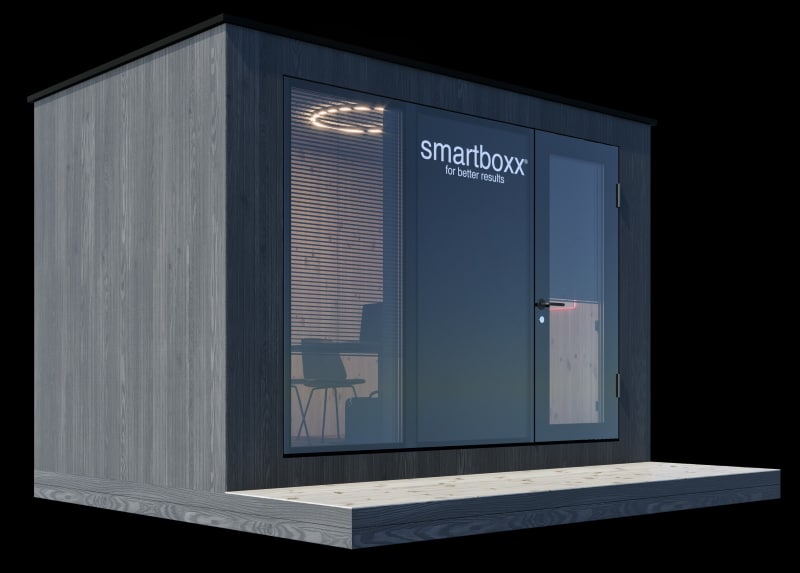 sustainable, high-quality and smart
smartboxx®: the compact and mobile office
➤ Produced in a building-biological and sustainable way
➤ Undisturbed and concentrated work
➤ Location-independent intelligent office solution
SUSTAINABLE MATERIALS AND CONSTRUCTION IN SOLID WOOD
Structure of the smartboxx® in detail

Infrared panel (integrated with smart-home)

Access control (integrated with smart-home)

Video conference equipment (screen, camera and soundbar with microphone)

Ventilation and air conditioning
LinaHaus elements (wall, ceiling and floor made of solid wood)
SIMPLE BOOKING
The new smartboxx® app
From now on, it is possible for guests, customers, people to book your boxx very easily via the app. This turns the smartboxx® from a mobile office into your own business.
With this app:
Simple booking is made possible
The boxx becomes a business model: you place the boxx where many people book it and you earn from the booking revenue.
Simple internal administration of the boxx is possible. (Booking for meetings etc.)
The boxx can not only serve as a mobile office through the innovative booking app, but can also be seen as a business model. Imagine buying a smartboxx® and placing it in a place where many people use the boxx, then this can be seen as a sideline or even a passive income.
Buy & Rent
Which smartboxx® solution is right for you?
Iwan Kostner
My story
Hello, my name is Iwan Kostner and I am a trained carpenter. In my career, I have already gained a lot of experience. However, wood has always been and remains one of my great passions. Already 30 years ago I worked in this field and was responsible as a coordinator for various disciplines in construction. Shortly: I became the single point of contact for everything!
The idea of a mobile office came to me while working at home during Lockdown in March 2020. Especially in the home office, I realized how convenient it would actually be to have a small office either close by or even in front of my house. So the idea was born to create a space where you not only have all the necessary work equipment at your disposal, but above all, you can work without being disturbed and with concentration. So with the smartboxx® I have created a small mobile office that will significantly benfit many. I am convinced of that!
FUTURE PROSPECT
The Vision
Create rooms across the globe that can be booked easily and flexible, so you can work undisturbed at any time. With a smartboxx® in various locations and a simple booking app, this becomes reality!
FAQ
Frequently Asked Questions about the smartboxx®